So this past Sunday was the 2012 BET Awards and to bring something new I decided to highlight my top 10 favorite moments from the award show. Check out what I  thought were the top ten moments below.
10. Wale Spills Jay Z Drink
Coming in at the number ten moment is Wale for spilling Jay Z drink. The MMG rapper was ecstatic that he beat both Jay and Kanye in an award category and as he ran down the aisle to dap them both up he managed to spill Jay drink all on his I'm pretty sure very expensive suit and shoes.
9. Nicki Minaj Twerking That A** Downe
In at number nine is the Young Money rapper Nicki Minaj for her performance of Beez In Da Trap. Even though her whole performance was thoroughly enjoyable I was so proud to see her twerking that cake like her rent was due tomorrow.
8. Beyonce Shades BET For The Lauryn Hill Disrespect
After a tasteless joke Mindless Behavior made about Lauryn Hill back taxes which I'm pretty sure the writers of BET came up with, Beyonce took to the stage after winning one of many awards to clock their tea. In case you missed what she had to say:
7. Jay Z Lil Mama's Kim Kardashian 
After winning Video of The Year, both Jay Z and Kanye decided to show their lady's love before Kanye turned to hug Beyonce as Kim stood hopping for the same from Jay Z. But like the boss he is Jay Z decided not to play into Kim's thirst and Lil Mama tapped her elbow instead.
6. Kanye West Previews 'New God Flow'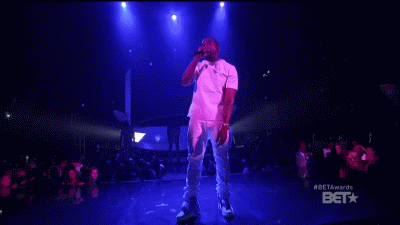 After his performance with G.O.O.D. Music family, Kanye West decided to spit an acapella verse from his new 'New God Flow' single. Ye did it so effortlessly which earns him the number six spot on the list.
5. Melanie Fiona Brings The House Down
In at number five is also Roc Nation's protege Melanie Fiona for her performance of her single 'Wrong Side of a Love Song'. Melanie took us to church and back with the performance which lands her the number five spot.
4. Jay Z Interrupts Kanye West
In at number four is Jay and Kanye for their brotherly love up on the award stage. After winning Video of The Year Jay Z decided to prank Kanye with a re-enactment of Kanye's interruption to Taylor Swift after she beat Beyonce out for Video of The Year at the VMA's. Check it out below.
3. Frankie Beverly & Maze and Tyrese Performance
After receiving the Lifetime Achievement Award, Frankie Beverly & Maze graced the stage alongside Tyrese to perform their hit classics. What made this performance even more special was that this was their first televised performance thus landing it at the number three spot.
2. Mariah Carey Speaks At Whitney Houston Tribute
In at number two is Mariah Carey for her speech at the Whitney Houston tribute. Yes the tribute in itself was very good but this moment is what sold me, especially when Mariah broke down. Check her speech out below.
1. Beyonce & Jay Z Playing Around
In at the top spot is none other than our favorite couple Jay Z and Beyonce for showing their personalities at the award show. In a very very very rare moment the couple decided to show us a more fun side to them as they battled it out for the Video of The Year category which Jay & Kanye ultimately won. It was so cute seeing their interaction and personalities from a more personal standpoint which lands them in at the top moment of the award show.
Check out some more backstage and show photos below.